Product Description
How To Quickly and Easily Get Your Cholesterol Down Naturally!
You're Only A Few Minutes Away From Discovering The Simple Cholesterol Lowering Diet Secrets That Can Help You Lose Weight and Feel Amazing Naturally WITHOUT Statin Drugs!
In this groundbreaking cholesterol lowering kindle book you will discover...
>> How to lower cholesterol quickly and easily through healthy eating strategies that will leave you feeling great!
>> Foods that both lower cholesterol and which will decrease your overall health risks AT THE SAME TIME as maximizing heart heath and tasting delicious!
>> The real impact that having high cholesterol can have on your health and how low cholesterol eating strategies can seamlessly blend into your daily routines.
>> Cholesterol Diet Tips to keep you on the right track and a number of cholesterol myths that you should be aware of.
>> The scientific studies to back up all the advice in this Kindle Book about Lowering Cholesterol and Feeling Great!
>> How to lower your risks of getting heart disease, strokes and cardiovascular problems far quicker then you may have believed possible!
You owe it to yourself to take the first steps on the road to getting your Cholesterol Down and back into a healthy range by taking a look at what Cholesterol Revitaliser has to offer.
Here are some ACTUAL Reviews from Readers of the book: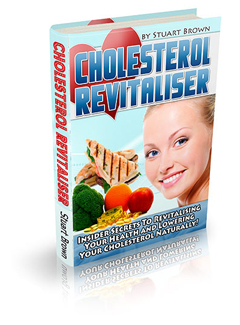 "No matter what you already know about dealing with high cholesterol, reading Stuart Brown's book will expand your knowledge to a degree that may change, or even save, your life. You will find his book well-organized and written in an unusually easy to read style. I highly recommend this book and predict that it will become the most cited, the most helpful, and the most authoritative reference for the non-drug, natural treatment of high cholesterol. Cholesterol Revitaliser will equip you to make a new start to your health and your life."
- Edwin Scroggins
"Cholesterol Revitaliser: Insider Secrets to Revitalising Your Health and Lowering Your Cholesterol Naturally!" is an easy-to-read, easy-to-apply book of recommendations for natural cholesterol management. As a busy single mom with genetically high cholesterol, I've already been able to incorporate many of Brown's suggestions with minimal effort. A fun, healthy read!"
- Vicki Landes
"Excellent well written book. It provides very useful information in non scientific language, very easy to read with useful references too."
- Anthony Gilbert
Book Description:
Cholesterol Revitaliser is a fast-track health solution that covers everything you need to know about effectively lowering your cholesterol.
It explores the information that you need to make informed, intelligent decisions about your health, fitness and diet and get your cholesterol down and under control.
It discusses natural ways that you can dramatically lower your cholesterol, as well as the role that statins and supplements can play.
It outlines diet choices to lower cholesterol naturally and explores the amazing variety of foods that can re-invigorate your system.
Cholesterol Revitaliser covers everything that you need to know about effectively lowering your cholesterol, revitalising your health and cutting your chances of getting heart disease, heart attacks and cardiovascular problems.
Scroll up and click the buy button right now to get started...