Garmin nuvi 40LM 4.3-Inch Portable GPS Navigator with Lifetime Maps (US and Canada) (Discontinued by Manufacturer)
---
Lane assist with junction view

Speed limit indicator

Trip computer records mileage, max speed, total time and more

Free lifetime maps with over 6 million points of interest

Hear spoken street names
---
There is a newer model of this item:
---
---
Product Description
nüvi 40LM delivers you safely wherever life takes you. Designed to make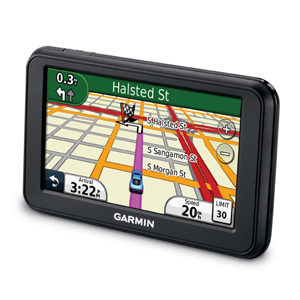 navigation easy, simply enter an address and premium features including lane assist with junction view, help you make all the right turns!

Start out for your destination and leave the navigating to nüvi 40LM. This device features a 4.3" (10.92 cm) touchscreen and provides accurate, turn-by-turn directions that speak street names. It also includes FREE lifetime map updates.


Get Turn-by-Turn Directions
nüvi 40LM's intuitive interface greets you with two simple choices: "Where To?" and "View Map." Touch the screen to easily look up addresses and services and to be guided to your destination with voice-prompted, turn-by-turn directions that speak street names. It comes preloaded with maps for the 49 States and Canada. nüvi 40LM's speed limit indicator shows you how fast you can go on most major roads. With its "Where Am I?" emergency locator, you always know your location. It also comes preloaded with more than 8 million points of interest (POIs) and offers the ability to add your own.
Enjoy FREE Lifetime Map Updates
With FREE lifetime map¹ updates, you always have the most up-to-date maps, POIs and navigation information available at your fingertips. Map updates are available for download up to 4 times a year with no subscription or update fees and no expiration dates.

Know the Lane Before It's Too Late
Now there's no more guessing which lane you need to be in to make an upcoming turn. Available in select metropolitan areas, lane assist with junction view guides you to the correct lane for an approaching turn or exit, making unfamiliar intersections and exits easy to navigate. It realistically displays road signs and junctions on your route along with arrows that indicate the proper lane for navigation.
What's in the Box
nüvi 40LM, preloaded NAVTEQ North American maps, vehicle suction cup mount, vehicle power cable, and quick start manual.
All nüvis come with detailed NAVTEQ maps containing more than 6 million pre-loaded point of interest locations.
---

¹ FREE lifetime map updates entitle you to receive up to 4 map data updates per year, when and as such updates are made available on the Garmin website, for this specific Garmin product only until this product's useful life expires or Garmin no longer receives map data from its third party supplier, whichever is shorter. The updates you receive will be updates to the same geographic map data originally included with your Garmin product when originally purchased. Garmin may terminate your lifetime map updates at any time if you violate any of the terms of the End User License Agreement accompanying your nüvi product.
---
Customers Who Viewed This Item Also Viewed
This shopping feature will continue to load items. In order to navigate out of this carousel, please use your heading shortcut key to navigate to the next or previous heading.
Customer Reviews
Top Customer Reviews
Verified Purchase
I've owned 3 GPS' in my life so far and BY far this is the one with the most useful features.
My wife and I recently drove 3500 km and found this device to be way and beyond the most useful thing in the car.
As we collect AirMiles we would prefer a certain fuel station and this GPS can identify WHICH gas station is close by or how far the nearest one is...how far off the road..IF it has a store attached and so on.
The controls are easy but I must confess several of the features are not explained in the ridiculous 4 page manual so I had to resort to phoning the company for help.
BUT.....HELP WAS AVAILABLE....both quickly and courteously....I was AMAZED!
If you go past your turn or find a detour the machine AUTOMATICALLY.....without needing to ask....calculates the newest best route to your destination.
My brother in law has the deluxe version with all the bells and whistles but when we looked at what this one didn't have that his did we discovered there was a practical and easy way to get around them.
All in all an incredible value that I expect, like my other Garmin, a Legend, will still be working 10 years from now.
Sending feedback...
Thank you for your feedback.
Sorry, we failed to record your vote. Please try again.
Report abuse
I bought my first Nuvi 40LM for a road trip though Canada and the US in late August 2012. I was able to load maps for Canada and the US no problem ...worked great until Pasa Robles in California in September when it froze completely. So I went to a Best Buy and bought a replacement Nuvi exactly the same model. Got to the Canada/US border and discovered that there was no Canadian map loaded. When at home I tried to connect to the computer to download maps discovered that my "device cannot be detected" Spoke to service representative (very nice fellow...long conversation) but no help. Have spent hours on my computer at Garmins website trying to download plugins etc. and would even willing pay the EXTRA $63 TO DOWNLOAD THE MAP OF CANADA but as there is no guarantee I could load it to my device I am giving up. Going to check out TomToms.
Sending feedback...
Thank you for your feedback.
Sorry, we failed to record your vote. Please try again.
Report abuse
By
Q. T. Vo
TOP 1000 REVIEWER
on Jan. 22 2012
I've had a GPS years ago, when they first became available. My first unit was 500$ and without text to speech capacity, but the voice was clear! My second unit was a Garmin Nuvi 255, with text-to-speech, but the voice was not pleasant, since it was very computerized.

I was extremely happy to try out the new Garmin Nuvi 40LM!!! It simply does everything better and comes with a lifetime of free map updates! First of all,the voice is very clear! Garmin truly polished their technology on this side and it shows! Also, this unit has the ability to show you which lane you have to take when there's several that are coming fast in front of you. This feature appears on the screen without any vocal advice, which forces you to look at the screen. It's a nice feature, that I probably will need a few times a year, when I actually use highways that branch out "simultaneously".

What I love the most about this unit is how fast it is to "recalculate your path, when you can't or don't take the initial route that it gave you. My old units would say the word "Recalculating" and then after 3-4 seconds, it would give me a new indication. The Nuvi 40LM gives you the new route almost instantaneously!!! The best example: I was taking the route that it suggested and at the intersection, I turn left instead of turning right! Immediately when I was past the left corner, my GPS told me to continue some distance to the next exit on the road, which I knew to be the right indication if I wanted to take the highway instead of the inner city road!

The new GPS is compatible with old Garmin's car power adapter, so you can use your old stuff without problems!

The only aspect that seemed to have decreased is the battery life when you do not plug your gps in.
Read more ›
Sending feedback...
Thank you for your feedback.
Sorry, we failed to record your vote. Please try again.
Report abuse
Verified Purchase
I had Garmin before and I was pretty happy with their products. This one has some improvements from the last, but still needs some other improvements. The one feature I liked the most is that it doesn't say "re-calculating" anymore. The thing I don't like is that it's not smart enough to re-calculate using a different route. Even though sometimes there might be a better route to go, it still tried to re-direct you back to the previous route. But if you cancel the trip and re-set it, it will recognize the better route. As for the device itself, the material seems cheap and the touch screen doesn't work as well as the previous one I had.
Sending feedback...
Thank you for your feedback.
Sorry, we failed to record your vote. Please try again.
Report abuse
So dissappointed. Have spent several hours trying to update the "Lifetime Maps". Only works in Explorer - not Chrome - did that. Does not recognize device - download Garmin Device Communicator - did that. And these, by the way, were only found with help from Google - Garmin website NO help at all. But none of this worked. So I am navigating with probably 2012 maps - and run into problems all the time. Good GPS but never wasting time or money on "Lifetime Maps" ever again.
Sending feedback...
Thank you for your feedback.
Sorry, we failed to record your vote. Please try again.
Report abuse
I purchased a brand new 40LM a little over a year ago. Worked great at first and then stopped working for no reason. Worked one day, but not the next. Booted to the "Garmin" splash screen, but never went any farther. Never dropped or mistreated in any way. Just stopped working for no reason. I tried all I could think of to reboot it. Anyway, "lifetime maps," are of zero value if the unit only lasts a year. Buyer beware!
Sending feedback...
Thank you for your feedback.
Sorry, we failed to record your vote. Please try again.
Report abuse
Most recent customer reviews