Garmin nuvi 50 5-Inch Portable GPS Navigator(US and Canada) (Discontinued by Manufacturer)
---
Currently unavailable.
We don't know when or if this item will be back in stock.
Lane assist with junction view

Speed limit indicator

Trip computer records mileage, max speed, total time and more

Navigate right out of the box with preloaded maps and over 6 million points of interest

Hear spoken street names
---
There is a newer model of this item:
---
Product Description
nüvi 50 delivers you safely wherever life takes you. Designed to make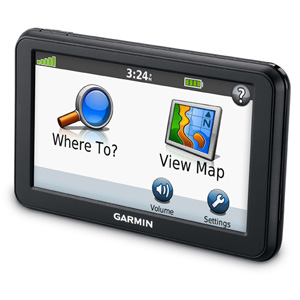 navigation easy, simply enter an address and premium features including lane assist with junction view, help you make all the right turns!

With a big 5" (12.7 cm) touchscreen, more than 8 million points of interest (POIs) and spoken turn-by-turn directions, nüvi 50 makes driving fun again.


Get Turn-by-Turn Directions
nüvi 50's intuitive interface greets you with two simple choices: "Where To?" and "View Map." Touch the screen to easily look up addresses and services and to be guided to your destination with voice-prompted, turn-by-turn directions that speak street names. It comes preloaded with maps for the 49 States and Canada. nüvi 50's speed limit indicator shows you how fast you can go on most major roads. With its "Where Am I?" emergency locator, you always know your location. It also comes preloaded with millions of POIs and offers the ability to add your own.
Know the Lane Before It's Too Late
Now there's no more guessing which lane you need to be in to make an upcoming turn. Available in select metropolitan areas, lane assist with junction view guides you to the correct lane for an approaching turn or exit, making unfamiliar intersections and exits easy to navigate. It realistically displays road signs and junctions on your route along with arrows that indicate the proper lane for navigation.

What's in the Box
nüvi 50, preloaded NAVTEQ North America maps, vehicle suction cup mount, vehicle power cable, and quick start manual.

All nüvis come with detailed NAVTEQ maps containing more than 6 million pre-loaded point of interest locations.
---
Customer Reviews
Top Customer Reviews
Verified Purchase
Nice GPS for the money, with a very eye pleasing screen, and good voice prompts to aid in the driving experience. Very easy to setup to your own preferences. Two small issues I would note with the item purchased is that there is no data link cable provided to initial charging away from your power supply within your vehicle, and also for the English voices: only female voices are offered. On the whole though apart from these two issues I expect to have a few years good usage from this GPS.
Sending feedback...
Thank you for your feedback.
Sorry, we failed to record your vote. Please try again.
Report abuse
Most Helpful Customer Reviews on Amazon.com (beta)
96 of 101 people found the following review helpful
By

Mark Wickersham
-
Published on Amazon.com
I've been using GPS units for over a decade. My first unit was a Magellan hiking oriented unit. I ditched it after two weeks and got a Garmin hiking unit that lasted me 6 years. The UI was much better, and Garmin really seems to pay attention to that. When the Nuvi wide screen units came out, that was the price performance price to get me into a unit oriented for driving. I've had both the 200w and the 255w. The 200w was good. The 255w had subtle UI improvements such as the speed limit display.

The new Garmin 50 beats them hands down. It's larger, and for less money than the others when they were new. The 5" display makes a huge difference. In addition to the larger display, almost everything about the maps details, fonts for text info, icons and symbols all seem larger, beyond just scaling up for screen size. Everything is much easier to read at a quick glance. The bootup is much faster. The first couple of times, there's a rather annoying license click-through, but it goes away after that. It hasn't been back. There's a "safety mode" which tries to tell you what a bad idea changing settings while driving is. It's easy to override, and easy to turn off.

Lane assist! It works... Sometimes it's timing is a little off... If it triggers too early you can end up in a "disappearing lane". Too late, and it can be tough to get into the correct lane in time, so this feature isn't an easy one to get right. It's still a big help.

When approaching a critical intersection, the screen splits, and a "street view" of the intersection appears. A cartoon depiction. I was worried that this would be disconcerting. But it's not. It works. It's helpful. BTW, this size screen in a motorcycle-toughened unit would be FABULOUS. Just my view.
84 of 89 people found the following review helpful
By

J. Koster
-
Published on Amazon.com
The menus are very simple and easy to understand. Navigation is accurate. 5" display is plenty big enough. Reception is great. One thing I would change is the voice option. There are 2 voices. The standard voice is a bit muddled and speaks street names. The other voice is much clearer but DOESN'T speak street names. I think you can download more voices online but I haven't tried that yet. Overall the GPS is well worth the 179 we paid.

UPDATE: I don't care for the lack of street names on the screen. My old garmin gps shows all the street names. This one only shows half of them even if i'm zoomed in or out. I need to know what street I'm on! See photo I uploaded.
43 of 44 people found the following review helpful
By

Math Addict
-
Published on Amazon.com
I've never been impressed by Garmin's product documentation but now they've just given up completely. There's no documentation for this GPS system other than some extremely small HTML pages built into the product that simply state the obvious for the most part. Now for the stupid part - the system ships in demo mode which means it still won't turn on. The GPS simulator is turned off and when you find the screen that let's you turn it back on, it won't work. Because there's no documentation, there's no way to know how to get it out of demo mode.

This is what you do...
Start by charging the unit for an hour or so because the battery is probably empty.
Turn the unit on by pressing the button at the top, left corner.
At the main page press View Map
Press the speed readout in the bottom right corner
Press and hold the Speedometer until the debug screen shows (10 seconds)
Select Demo Mode
Click Disable Demo Mode
Return to the debug screen
Select GPS Simulator Mode
Select Off and click OK

Piece of cake, right?
56 of 60 people found the following review helpful
By

Amazon Customer
-
Published on Amazon.com
This GPS is 100 times better than my old GPS, the Garmin 750! Everything is a lot quicker now from finding satellites to scrolling on the screen. Plus, there's a whole bunch of great new features. Some examples are how it now tells you which lane to be in so you don't have to guess, the screen refreshes faster so it's easier to actually tell when to turn, the junction view is pretty handy, and apparently it shows you speed traps and red light cameras! Definitely a great buy.
24 of 26 people found the following review helpful
By

M.T.A.
-
Published on Amazon.com
I'm fairly new to using a real GPS unit in my car and before that I've been using Google Maps on my phone (or equivalent). A real GPS unit definitely has its advantages. It's better at picking up signal (one can only assume that it has more space/weight allocated for the antenna) and is not depending on data signal to download maps. The latter can be a problem if you're driving through rural areas, and suddenly the phone is useless while the GPS unit works just fine.

This unit is fairly new on the market and I've tested it a couple of times so far, and I think it works great. It does everything I need. I'm very happy with the default voice (I actually haven't tried the other options yet), it's easy to hear and pronunciation of streets has been spot on so far. Information on turns and merges works fine. The screen size and format is nice. It took me a little while to get used to the touch screen (after having used the more sensitive touch screens on newer cell phones), but it didn't take long to get over that. The overall design seems sturdy and I'm not worried that it will physically break or fall apart. The user interface is intuitive and it didn't take me long to get familiar to it.

Overall, great unit for the price range!
---
Look for similar items by category